March 1, 2015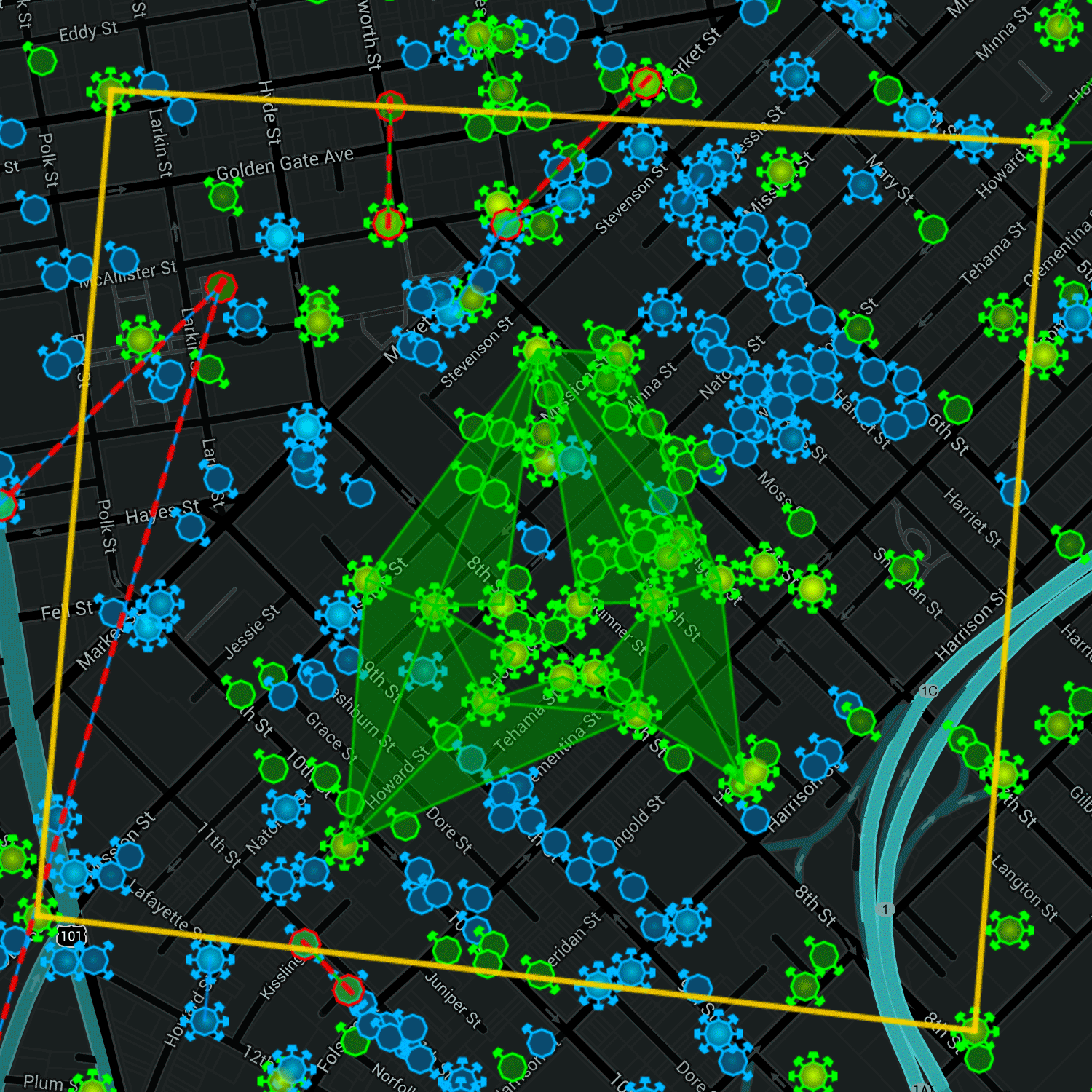 On Friday, February 27th, 2015 we learned of Leonard Nimoy's passing. That very afternoon, a plan was hatched for Andorian (blue) and Orion (green) delegates to gather at Starfleet Headquarters in San Francisco, California to create a memorial for the late Ambassador Spock.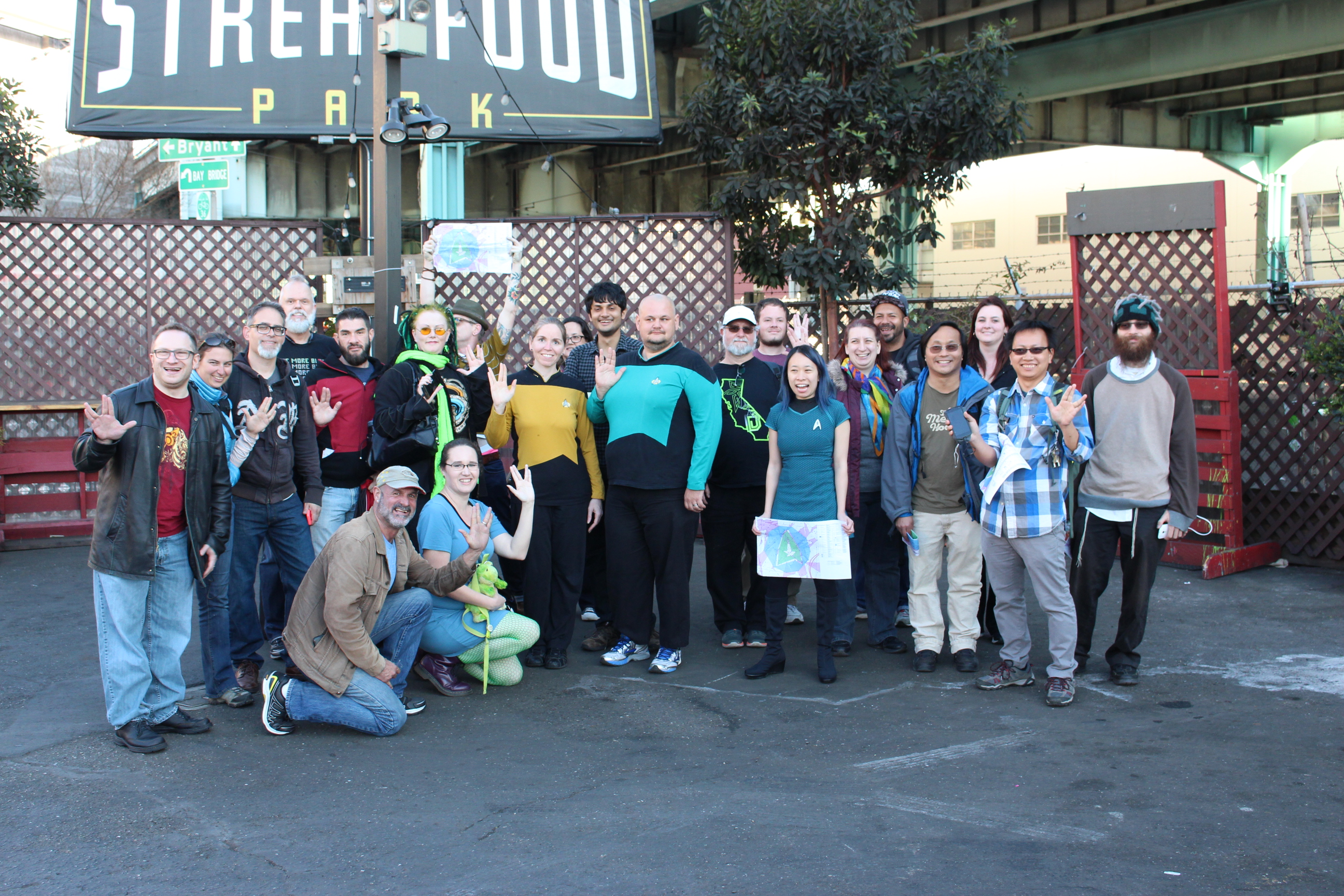 12 Resistance Agents and 22 Enlightened Agents gathered at 2:00 PM on Sunday, March 1st to build a series of fields in the shape of the Starfleet Insignia.
The day started off with many green fields over a several block radius, and half as many Resistance Agents as Enlightened Agents on the ground to clear them. We split up into 3 cross-faction car teams, 1 agent on bike, 1 agent on rollerblades and the the rest on foot.
The plan was to have the agent on bike and the car teams clear the perimeter first so that a bounding box could be created to prevent feral agents from interfering with our artwork. This proved to be quite difficult. In a highly populated and portal-dense city such as San Francisco, one blocking link going down only provides an opportunity for another to go up.
In the end, we overcame the links from feral agents and completed the field art in under 3 hours.
This was my first time operating for a cross-faction event, and many valuable lessons were learned. I was absolutely amazed by how well everything came together. My approach going into this operation as a first-time cross-faction event organizer was that if I wanted the Resistance to trust me, I would have to trust them. I would also have to treat all team members equally, regardless of faction. This meant that I would dole out resources equally if anyone needed anything. (And yes, I did hand out XMPs to the Resistance.)
The location of the field art was not ideal, because a portion of it was in one of the busiest parts of town. The command center was also off the map due to safety and space constraints and could have benefited from a more central location.
A more equal turnout from both factions could have been achieved if given more time to promote the event. The success of our team proved that great teamwork can overcome any oversight in planning.
Special thanks to the following agents on the ground:
@Nidaldik
@Thedoc31
@Littlesweetpea
@IconMonkey
@Wh1skeyB4nd1t72
@Diziara
@diamondCutter
@sigkill
@Holymeatballs
@vimsical
@Galerina
@stolenveil
@beyelzu
@ensignsteve
@sativa42
@w1zard
@SFHandyman
@Athertoncivic
@DoctorJarvis
@mobivme
@jasonwentcrazy
@Cellissimo
@Peregrinator
@shayba
@omael
@ScoobyDoobious
@Bonchesca
@wolfthorn
@AugustusMachin
@ibarra
@fatnino
@turabelle
@jaywobble
@wayfaring
And the Resistance Ambassadors who rallied their troops even though they were out of town/country:
@dorkus
@thekewe
Photos by @diziara
December 10, 2013
The seeds for Operation Venus were sown almost half a year ago when the South Bay Enlightened Ladies decided to embark on a mission together. The beautiful summer and fall months proved to be a challenging time to gather a critical mass of agents, so an early December operation was planned.
In the months leading up to Operation Venus, several potential operation plans were discussed. In the end, a seasonally appropriate star-shaped field over San Jose's Christmas In The Park holiday fair was selected.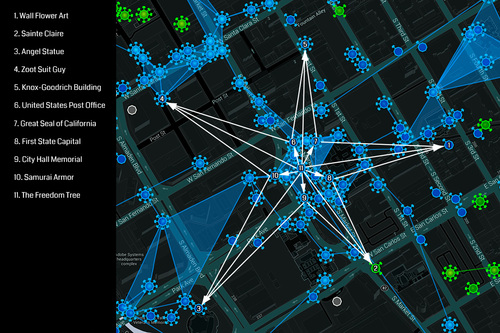 Three days before the operation, an Enlightened building moratorium in downtown San Jose was requested. San Jose turned blue while agent Palko, the Enlightened guardian of San Jose anxiously awaited the completion of Operation Venus.
On December 7th at 10:00 am, 11 enlightened women gathered for a hearty brunch, followed by an afternoon of creating the first documented field art attempt in San Jose.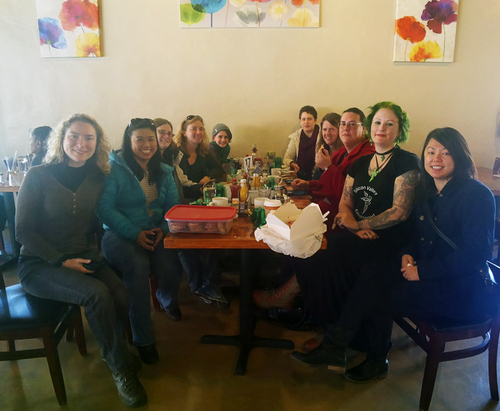 The agents who were involved included:
aktse
AMPA
illiath
leonora
moosesquirrel
SisterWife
stolenveil
sugaraddict
synesthete
Talinah
zombwee
Operation readiness packets containing a map of the planned field art, shaper-inspired jewelry and nail polish from Lucky 13 Lacquer were distributed.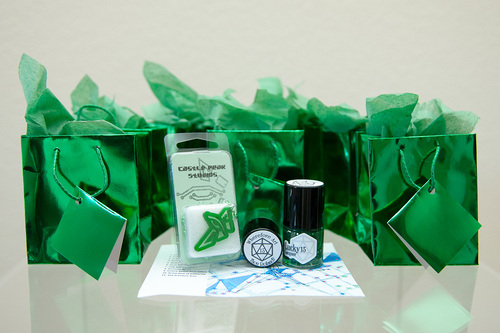 At noon, the crew set into action, first capturing, shielding and collecting keys for the Wall Flower Art portal.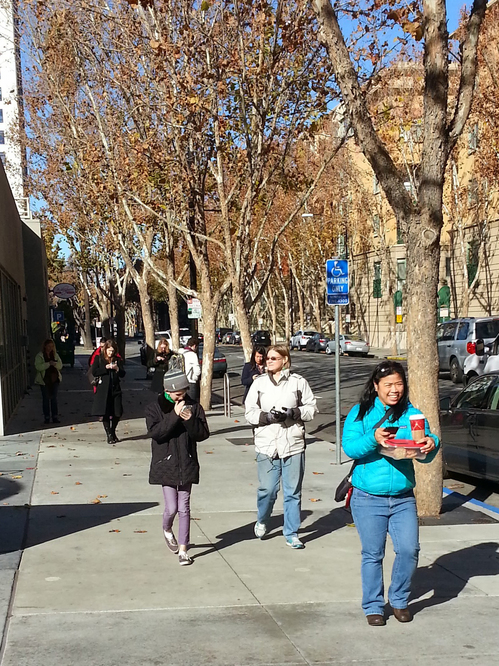 An attempt was made to turn all portals along the way into level 8 portals, but this slowed down the group considerably. There was a concern that since the penultimate 13 Magnus anomaly was happening the same afternoon, any level 8 portals and fields would attract the ire of the local Resistance agents. With a revised plan to head directly to the field anchors, clearing any blue portals, links and fields along the way, the ladies headed for Hotel Sainte Claire without delay.
At Hotel Sainte Claire, agent aktse's health deteriorated in the unseasonally harsh weather, so the group bid her farewell with a final helping of her homemade chocolate chip cookies and hugs all around.
As the ladies continued on their way to Angel Statue, a long blue link was noticed, running the length of Market Street. This caused a bit of alarm. It was determined that one end of the link was Modern World, which was along the walking path. The group resumed the mission, making a note to clear the link as they approached Modern World.
The many road crossings and slow traffic lights made it a challenge to keep the entire group together. As the agents progressed towards Zoot Suit Guy the blue link and field concentration became denser, as the area was a Resistance stronghold. The group split up, with half of the women heading out from S. Almaden Boulevard and Post Street, along Post Street and up S. Almaden Avenue, and the second half heading up S. Almaden Boulevard, turning at W. Santa Clara Street, and going back down S. Almaden Avenue to rally at Zoot Suit Guy for the capture.
Shortly after Zoot Suit Guy was captured and shielded, it started getting attacked by agent k6bez. The ladies recharged Zoot Suit Guy, as they walked towards the Knox-Goodrich Building and k6bez stopped attacking.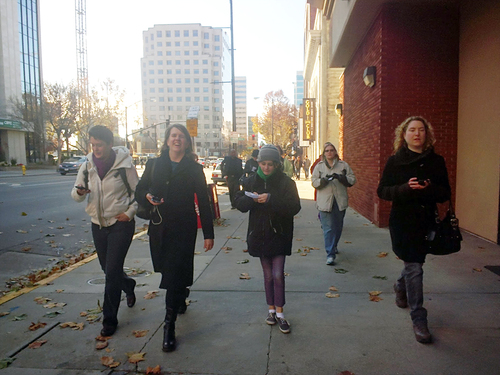 After the capture of the Knox-Goodrich Building, the ladies went on to capture United States Post Office, The Great Seal of California and First State Capital. Links were made to the outermost tips of the star field (Zoot Suit Guy, Knox-Goodrich Building, Wall Flower Art and Sainte Claire) at each portal.
Just as a link from First State Capital to Sainte Claire was being made, a blocking link originating from Oso's Rebirth created by friendly agent thaiguy appeared. The Enlightened ladies called out for thaiguy to stop linking, as agent stolenveil made a run down to Oso's Rebirth to infect it with an ADA virus and destroy the link.
In the excitement of the blocking link's removal, an erroneous link from the similarly named First State Capitol Building was made to Sainte Claire. Another ADA virus was used to remove the link, and the correct link from First State Capital to Sainte Claire was thrown.
When agent stolenveil reconvened with the group, the ladies proceeded to capture City Hall Memorial and Samurai Armor.
Links to the tips of the star field were made (Sainte Claire, Angel Statue, Zoot Suit Guy) and then the group descended upon the final, and most important portal: Freedom Tree.
The idea was that 10 of the links could be shot out from Freedom Tree to each of the corners of the star to complete the field. However, after a frenzy of linking, it was discovered that the order in which these links were made mattered. After 3 corners of the star field anchored by Angel Statue, Zoot Suit Guy and Knox-Goodrich Building were filled in, no more fields could be created from the center portal. 2 separate teams with keys to Freedom Tree were deployed to Wall Flower Art (leonora and sugaraddict) and Sainte Claire (SisterWife and synesthete) to link from the outside in. However, the team deployed to Sainte Claire discovered they had lost their key to Freedom Tree on the way, and agent AMPA was deployed to complete the field.
At 1:57 PM, the star field over Christmas in the Park was complete. Congratulatory messages and Christmas cheer poured in from agents who were keeping tabs on the Operation. Screen shots were made from the scanner, mobile intel, and a Chromebook on site.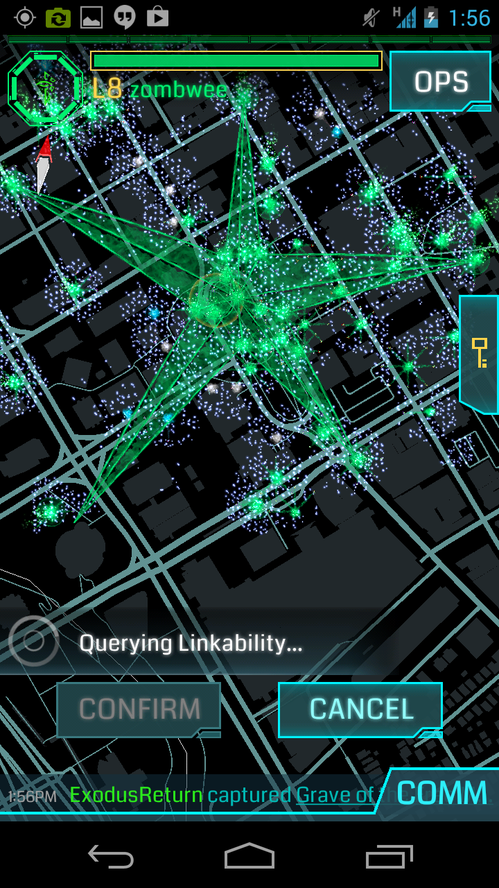 Higher resolution screen shots were also requested from remote agents who were standing by at a computer.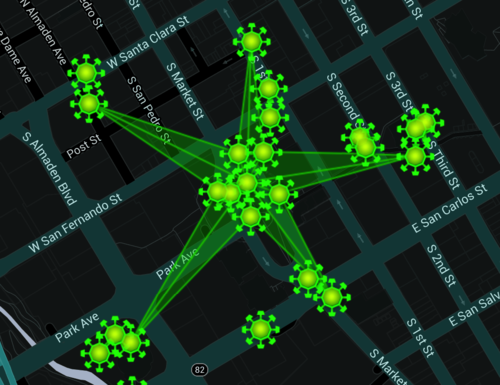 As soon as visual confirmation of a satisfactory screen shot was made, agent thaiguy was given the all clear to resume his linking. Seconds after the all clear was posted on Faction COMM, Resistance agents peachytime and luigitime swooped in to destroy the Christmas star in a display of their Christmas spirit.
The Enlightened ladies retreated to a near by cafe to warm up, celebrate their successful mission and share stories of past operations.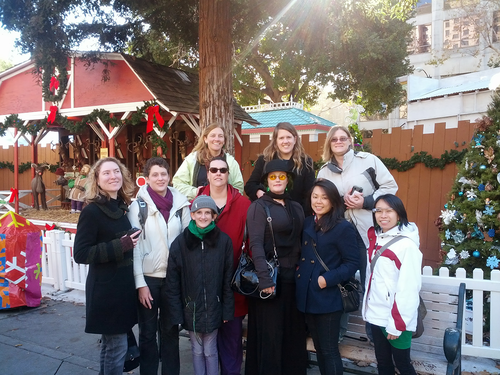 September 11, 2005
This past June, my mom wanted to buy me some flowers for my graduation but the catch was that I had to choose my own bouquet. I looked around both on and offline, but I couldn't really find anything that I wanted to carry around on my graduation day. I thought briefly about taking the easy way out and ordering an orchid lei from Hawaii so that my hands would be free, but those cost about $75 to ship to Canada overnight by FedEx. I couldn't justify spending that much on something that would be thrown away in less than a week.
I never really liked flowers, especially cut flowers. They seem so pointless; so expensive, yet so temporal. So in my tradition of making fashion statements, I made a bouquet out of Canadian $5, $10 and $50 bills. This bouquet may cost many times more than a fresh bouquet (depending on the denominations of the bills you use) but it will last forever. If you ever grow tired of it, you can even disassemble it and spend it on something more practical.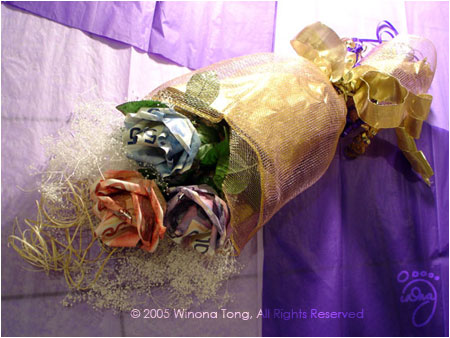 Adapted from Dollar Bill Rose by Susan from Craft at Home, here are my refined step-by-step instructions on how to make a long stemmed rose out of money.
1. Materials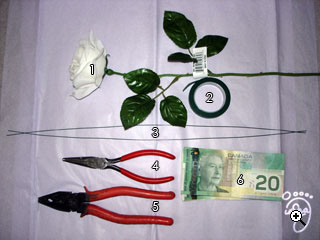 1 silk flower with removable leaves and plastic calyx (circle of leaves beneath petals)
1 metre of floral tape
2 floral stem wires about 50 cm long (one should be 18 or 20 gauge, the other should be 22 or 24 gauge)
1 pair of longnose pliers
1 pair of linesman pliers (or anything rigid with a small flat surface)
5 crisp bills (the newer the better)
Not shown:
anything adhesive (glue, tape)
any flat, rigid surface (pile of magazines on a table, cutting board)